Your older, adorable, Benji-like small dog with no history of heart murmur starts coughing. He's had a collapsing trachea before, so you're not terribly worried. Until it continues for several weeks and he develops a wheeze and trouble breathing. You take him to your vet for an exam and chest x-rays. Benji's heart is large but his murmur is quiet… not typical for heart failure from chronic valvular disease. So what's causing his cough? Is it broncho-pneumonia? Heart failure? Collapsing trachea? Or something else? An echocardiogram and cardiology consultation ordered through ETVETUS gives you answers and a plan to help your baby.
Let's look at some echo images.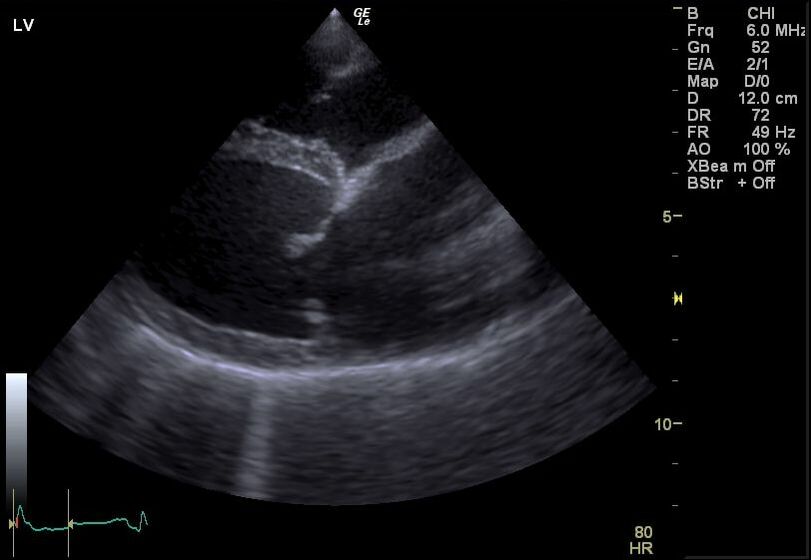 A trace pericardial effusion was also noted, possibly secondary to congestive heart failure OR a left atrial tear.
So…
​what's causing my dog's cough?
The cough is thought to be from a combination of early left-sided congestive heart failure, pulmonary hypertension, and tracheal and mainstem bronchus collapse over the heart. Treatment consists of diuretics, pimobendan to increase heart contractility, enalapril, sildenafil to treat the pulmonary hypertension, and cough-suppressants if needed for the tracheal collapse. You're sweet baby can now get the exact help he needs. He'll need monitoring and ongoing treatment but should start feeling much better soon.