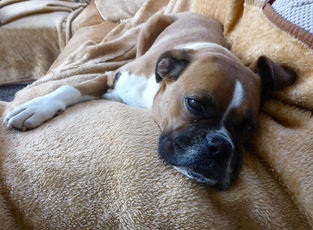 If you own a Boxer, either as a companion or with the intent of breeding, please consider having him or her tested for ARVC by the NC State College of Veterinary Medicine. The test can be performed on whole blood or by using special swabs (available by request from NC State) to collect samples of cheek cells inside the mouth.
ARVC is an adult-onset cardiac disease that can lead to sudden death and heart failure. It most commonly affects the Boxer breed but can affect other breeds as well, including the English Bulldog and American Staffordshire. It is recommended that Boxers undergo Holter monitoring beginning at age 3. Dogs which may be used for breeding should have genetic testing performed prior to breeding. Any patient with a heart murmur, substantial arrhythmia (>100 VPCs/24 hr or more complex VPCs), fainting, weakness, or heart enlargement should be further evaluated with an echocardiogram.
Please contact us if you would like our assistance with any aspect of your Boxer's heart health. We can provide Holter testing and rhythm evaluation, genetic testing submission, and echocardiography.
​
More information about genetic testing in boxer dogs can be found HERE.
A great summary from the University Federations for Animal Welfare can be found HERE.